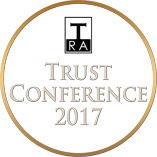 The strategy of navigating trust in today's complex market is not easy. The habitat that brands and businesses exist in is visibly and rapidly transforming. When the environment is unstructured and ambiguous, brands often struggle to come to come to grips with a unifying strategy.
Trust is the force that binds brands to their ecosystem, helping shape its identity and building relationships. Without building, maintaining or refurbishing trust constantly, brands will invariably weaken, wither or even fade.
TRA Research presents its second interactive event – Trust Conference 2017. The conference is a platform to generate conversations on the essence of trust, and to further delve on the significance of Building Brands To Last.
The Trust Conference 2017 is an exclusive event for all C+ level executives of various brands that are based in India.
Date:18 August 2017 | Venue:Mumbai | Time:5 pm onwards
Contact Us: E: trustconf@trustadvisory.info | M: 9029007002